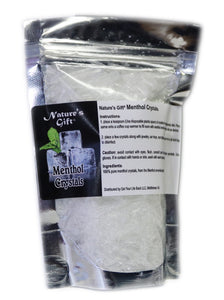 Nature's Gift® 3.5oz Menthol Crystals
Instructions:
1. place a teaspoon (Use disposable plastic spoon) of crystals in a small ceramic dish. Place
same onto a coffee cup warmer to fill room with menthol aroma--add other oils as desired.
2. place a few crystals along with jewelry, car keys, eye glasses and so on in a zip lock bag
to disinfect.
Caution: avoid contact with eyes, flush, consult your doctor if irritation persists. Use
gloves. If in contact with hands or skin, wash with warm soapy water.
Ingredients:
100% pure menthol crystals, from the Menthol arvenisis plant