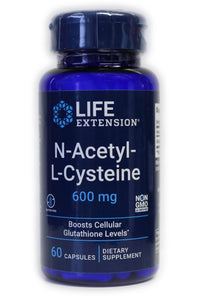 N-Acetyl L-Cysteine (NAC) 600mg
NAC is another way of boosting glutathione but there are a few drawbacks and an important caution.

NAC is the supplemental form of L-cysteine, a semi-essential amino acid present in our bodies. L-cysteine is the amino acid that helps make up the glutathione tri-peptide molecule (glutathione).
The difference between NAC and MaxOne is that with MaxOne, the l-cysteine is bonded to D-Ribose (a natural sugar) that gets into the cellular structure. The unbonded l-cysteine in NAC acts differently.

Where the percentage boost of glutathoine from MaxOne is known as approx 270% from 2 caps daily, the percentage boost from L-cysteine (NAC) is not as predictable.

With MaxOne, you can take up to 8 or 10 caps daily with no side effects or issues. With NAC, a maximum of 3 per day are recommended.

Caution: While its always recommended for everyone to drink 6 - 8 glasses of water a day. If you fall short with MaxOne, there's no issue. However, if you do not drink those 6 - 8 glasses a day of water, with NAC kidney stones may form - not a pleasant experience. 
Serving Size 1 capsule

Amount Per Serving

N-acetyl-L-cysteine

600 mg

Other ingredients: vegetable cellulose (capsule), vegetable stearate, silica.
Non-GMO
Dosage and Use
Take one (1) capsule one to three times daily, or as recommended by a healthcare practitioner.
Caution
Those who supplement with NAC should drink 6 to 8 glasses of water daily in order to prevent cysteine renal stones. Cysteine renal stones are rare but do occur.
Warnings:
Keep out of the reach of children
Do not exceed recommended dosage
When using nutritional supplements please consult with your physician if you are undergoing if you are undergoing treatment for a medical condition or if you are pregnant or lactating.