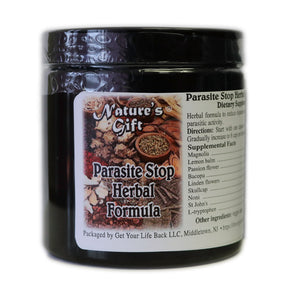 Nature's Gift® Parasite Stop Herbal Formula 90 capsules
Herbal Parasite Stop Formula
Herbs to reduce dopamine uptake in the brain.
Ingredients:
Magnolia
Lemon Balm
Bacopi
Linden Flowers
White Mulbury
Noni

Caution: Reducing too much dopamine uptake could contribute to symptoms of depression. Many already suffer from depression from dealing with Morgellons, watch for the following symptoms appearing when they weren't there before or worsening. If so, decrease the number of capsules per day.        
Trouble concentrating, remembering details, and making decisions
Feelings of guilt, worthlessness, and helplessness
Pessimism and hopelessness
Insomnia, early-morning wakefulness, or sleeping too much
Irritability
Restlessness
Loss of interest in things once pleasurable, including sex
Overeating, or appetite loss
Digestive problems that don't get better, even with treatment
Persistent sad, anxious, or "empty" feelings
Suicidal thoughts or attempts 
Instructions: Start with one capsule three times a day (preferably with food) and go up to and increase to 6 caps a day, if necessary. Drink 8 oz of water every time you take them
Ingredients:
L-tryptophen 21.2g

Proprietary blend of Magnolia, Lemon balm, Passion flower, Bacopa, Linden flowers, White Mulberry, and Noni 374 mg
-------------------------------------------------------------------------------------
(1) Health Benefits of Magnolia https://www.organicfacts.net/health-benefits/herbs-and-spices/magnolia.html
(2) Emerging Benefits of Bacopi (https://www.healthline.com/nutrition/bacopa-monnieri-benefits(4)Surprising
(3) Benefits of Linden tea  https://www.healthline.com/nutrition/linden-tea
(4) White Mulberry https://www.rxlist.com/white_mulberry/supplements.htm
(5) Health Benefits of Noni https://healthiersteps.com/10-amazing-health-benefits-of-noni/
 *while the parasite stop formula produces dramatic results for many, your results may differ.
 This product is not intended to diagnose, treat, cure or prevent any disease. The Food and Drug Administration has not evaluated these statements. The statements above are the views of the manufacturer and are intended for reference only. The manufacturer can sometimes unexpectedly improve their formulation so be sure to check the product labeling, before consumption, for the most up to date information. This product has been manufactured in the USA in strict conformance with industry standards. Keep out of the reach of children