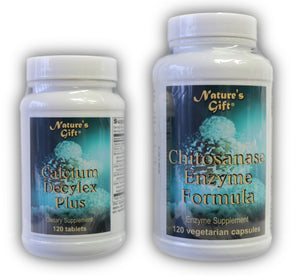 Nature's Gift Anti Fungal Package
A combo of our Chitosanase Enzyme Formula and Calcium Decylex Plus.
One is a multi purpose enzyme formula to break down chitin and break up bio-film.  The other is a powerful formula combines specific natural agents that discourage growth of yeast, fungi, and other undesirable intestinal microorganisms.
For more info on the Chitosanase Enzyme Formula please visit this page
For more info on Calcium Decylex Plus please visit this page